Minerva FC is the first ever team from North India to play in the I-League. Here's how the team reached this far.

Origin
In 1955, Minerva Academy was founded in Chandigarh, which helped fulfill the dreams of many brave hearts to join the Indian Defense Forces and the Academy was named after Roman Goddess of War and Intellect. The legacy carried on and the academy still provides coaching to defense aspirants. The alumni of the academy have been brave souls like Capt. Vikram Batra, the hero of Kargil War 1999 and Flying Officer Nirmal Jit Singh Sekhon, IAF's first and only PVC Awardee and more.
Minerva Academy FC started back in 1970s, when they were the most dominating team of the region. However, it had to be shutdown due to lack of funding. The Club was revived again in 2015 by Ranjit Bajaj. Ever since, the team has been striving to re-earn their glory and has been successful.
Achievements
In 2015, Minerva FC were crowned champions of State Senior Championship, organised by Chandigarh Football Association.
Minerva FC were also the club from region to qualify for the 2nd division of the I-League for 2015-2016 season.
In 2016, Minerva FC became 2nd division I-League Western Conference Champions
This year, Minerva FC is playing in the I-League 2017 without any sponsors. Their jerseys proudly say, "Saluting the Indian Armed Forces."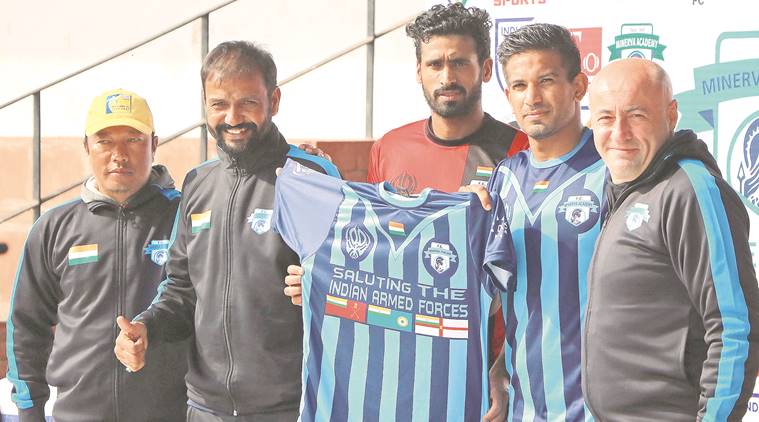 Here are some more details about the team
Team Captain: Simranjeet Singh
Team Coach: Surinder Singh
Team Ground: Guru Nanak Stadium, Ludhiana
The I -League 2017 is on. Whether this team wins or loses, it has truly won everyone's hearts with its spirit, dedication and hard work. This is the first time, a team from Punjab has performed this well in football. Let's support our team. The team has got a long road ahead.
Comments